Welcome to West Coast Whoppers, the year-long, points based big fish contest for SoCal kayak anglers. The contest begins January 1, 2005 and ends December 31, 2005. Anglers may enter the contest at any time during the year, but it is advisable to register early to maximize your points. Registration will be $25per angler, 50% of which will go to the winning angler at the end of the year. The second place angler will receive 30% and the third place angler will receive 20%.We will also be seeking sponsorship of the contest to add supplemental prizes for monthly winners, largest of a species, etc.
Rules:
1. The contest is based on the following points system: Yellowtail count for one point per pound. White Sea Bass count for 1.5 points per pound, and California Halibut count for 2 points per pound.
2. Registered anglers will be allowed ONE submission for points each week. The fish submitted each week must be caught during that week. Week one will run from Saturday Jan. 1 through Saturday Jan 8. Each subsequent week will begin on Sunday and end on Saturday. The submission deadline for each week is Tuesday of the following week at midnight (to allow travelers 3 days grace).
3. Each angler's submission must be accompanied by 2 photos of the catch: One photo of the angler holding the fish (preferably on the kayak) , and one photo of the fish on a measuring tape showing its total length in inches. Fish must also be weighed on an accurate scale. Reported fish weight will be compared to length to verify accuracy.
4. Submissions will be made on this message board for all contestants to see. Scoring will be updated weekly and will be viewable by all competitors.
5. All fish must be hooked, fought, and landed from a kayak, to be eligible for submission. Fish caught in Mexican waters (including the Sea of Cortez) or on mothership trips will be allowed. The use of motorized kayaks will NOT be allowed.
Big Water's Edge encourages the responsible management of our fisheries. The rules of this contest allow for catch and release fishing. Please do not keep more than you can eat.
To sign up for West Coast Whoppers please email
corey@bigwatersedge.com
and mail a check payable to Big Water's Edge n the amount of $25 to the following address:
Corey Wyrick
Re: West Coast Whoppers
204 Wichita Ave. #4
Huntington Beach, CA 92648
Payment must be received within 14 days of email registration or submissions will be deleted until date of payment receipt.
Now let's have some fun……
http://www.kayakfishinggear.com/
http://kayak4fish.com/

http://www.bigwatersedge.com/cuda_review.html

www.malibuoceansports.com
www.kayaksandiego.com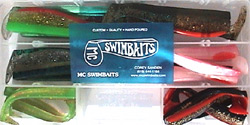 http://www.noahstackle.com/store-lures-mcswimbaits.htm
http://www.bloodydecks.com/store/store.htm
http://www.allkayakfishing.com/
http://www.fishermanslanding.com/
http://www.creativefeathers.com